Exercise
We offer you several types of exercise here at The Center.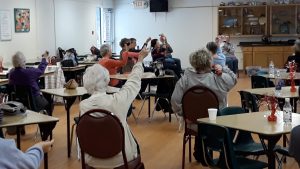 Bone Builders Chair Exercise is a safe, low impact exercise program. It relies on weight training to protect against fractures caused by osteoporosis by increasing muscular strength and bone density. Classes are held Monday, Wednesday and Fridays at 11 am and are done at 11:30 am.  Each person completes the exercises at their own capabilities.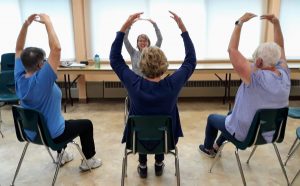 Chair Yoga will be meeting at 4:00 pm on Tuesdays in the Craft Room on first floor.  Mikala Huesmann is the instructor. Chair yoga has simple movements designed to lubricate the joints, stretch the muscles, and strengthen the core for improved balance. Why not give it a try! (CANCELLED UNTIL AUGUST)
Rise & Shine Yoga Outdoors!
Join us Wednesday Mornings in July at 8:30 for gentle yoga outside. This class will be a combination of chair yoga and easy standing poses. All ages and experience levels welcome.We will focus on combining our breath with mindful and safe movements.
Exercise Rooms  Access is included in your membership.  You could begin your exercise routine as early as 7 am  Monday thru Friday. The exercise rooms are located on fourth floor of The Center.  The equipment we have available for your use includes: treadmills, recumbent bike, row machine, elliptical, exercise bike, exercise balls, bosu ball, weight bench, stretch machines and a Hoist workout machine. You only need your membership and a little motivation!
Zumba Gold:  Are you ready to party yourself into shape? That's exactly what Zumba Gold is!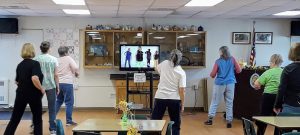 Join us on   Tuesday and Friday mornings at 9 am for this fun exercise program. You will be learning Latin dance steps to jazzy music! You'll have so much fun you won't even know you're exercising!  This is an awesome program, just ask those who participate.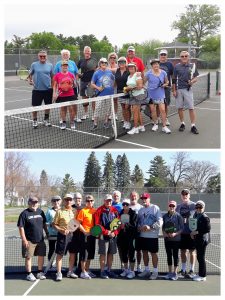 Pickleball  is played every Tuesday at 9 am at the Gregory Park Tennis Courts from May through October.  Tennis starts at 9 am every Wednesday at Gregory Park Tennis Courts from May through October.  Show up at Gregory Park for either of these activities.  You will need your current membership card from The Center along with $20.00 cash and/or check made out to Brainerd Parks and Recreation Department.  The playing season will be from May 7th through October 31st.  Please contact Jeanne and/or Bob Larson @ 218-838-2552 or 218-838-4685.  They are the Pickleball and Tennis Coordinators.  Check your newsletter for more information.
Golf coordinator is  Bruce Lapka. You could call him  @ 218-330-1124 with questions.  Golf will begin on Monday, June 3rd at 9 am at Craguns's Legacy Golf Course.  They will play every Monday through August 26th.  The Center members will receive a special rate of $7.50 per person or $12.50 with a cart.  Check your newsletter for more information.
Let's Go Fishing:  (CANCELLED FOR 2020)  There will be a LGF pontoon available for trips from June through August. Check your newsletter for specific dates. You will be supplied with a fishing rod, bait and life jacket to use for the afternoon.  Make sure you have a fishing license.  It is a ton of fun and you have the opportunity to catch supper.
Snowshoes are available for check-out during the snow season.  Sign out one of our 20 pairs of snowshoes and enjoy the beauty of our Minnesota winters as you exercise outdoors. The Northland Arboretum has groomed trails for snowshoers.