Activities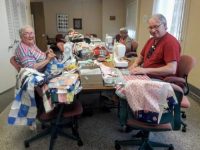 2nd Monday Dinner:  Meal at 5 pm monthly. Cost is $8  OPEN TO THE PUBLIC.
4th Friday Lunch 'n Learn:  Noon lunch with presentation. Cost is $5  OPEN TO THE PUBLIC.
Acrylic/Oil Painting Lessons: Tuesdays at 1 pm beginning in Spring
Advice from Ann: Mondays 9 am to 11 am
American Mahjong: Lessons/Mon. 9:30 am; Tue. at 2 pm.Wed. 9:30 am & Fri. at 12:30 pm;
BANDSTAND CONCERT, GREGORY PARK – 7 pm – THURSDAY, June through August – Concerts at Gregory Park Bandstand are made possible by funding from the Brainerd Community Foundation and the voters of Minnesota through a grant from the Five Wings Arts Council, thanks to a legislative appropriation from the Arts and Cultural Heritage Fund.
Bingo: Wednesdays at 12:30 pm – Free Popcorn!
Bluegrass Jam Session:  1st & 3rd Tuesdays from 6:30 to 8:30 (April – October)
Bone Builders: Mondays, Wednesdays, Fridays 11 am – 11:30 am
Book Club:  Meets the 3rd Wednesday monthly at 10:30 am
Card Recyclers: Mondays & Fridays at 8 am – noon
Center Choir:  Wednesdays at 3 pm.  If you are interested in joining the choir, contact Diane Guidi @218-454-0268.
Chair Yoga: Tuesdays at 4:30 pm
Creative Coloring: Fridays 10 am to noon
Cribbage: Mondays at 1:15 pm
Dominoes: Tuesdays at 12:30 pm
Donut Day: Thursdays 7 am to 10 am or until Sold-Out.
Duplicate Bridge: Tuesdays at 6 pm
Exercise Rooms: Daily 7 am to 4 pm
Folk Painting: Tuesdays at 1 pm.
Free Blood Pressure Check: Thursdays at 10:30 am.
Gift Shop: Daily 10 am to 4 pm  OPEN TO THE PUBLIC.
Golf League: Mondays at 9 am at Cragun's Gold Course.  Call Cragun's week prior at 218-825-2789  June-August
Great Decisions:  3rd Mondays at 4 pm in the Great Room (April – November)
Jam Session: Band, Dancing, Listening every Thursday beginning at 11:30 am – 1:30 pm
Karaoke: Singing and Dancing – Fourth Thursday at 6:30 pm.
Knitting: Wednesdays at 10 am.
Let's Go Fishing:  Trips scheduled twice a month; June, July and August.
Model Railroad:  Tuesday at noon on Second floor.
Morning Club: Wednesdays at 9:30 am
Movie Matinees: Fridays at 1 pm. Free popcorn is provided!
Open Craft: Tuesdays 8 am to 1 pm
Party Bridge: Mondays at 12:30 pm
Pegs and Jokers: Fridays at 9:30 am in Lobby. May through November
Pickleball League: Tuesday 9 am at Gregory Park. May through October
Ping Pong:  Stop in and hit a few across the net.
Pool Table:  Stop in and play by yourself or with a friend!!
Prayer Quilters: Mondays and Thursdays 8 am to 3:30 pm, or for as long as you can stay.
Progressive 500 Cards: Tuesdays & Fridays at 1 pm
Reminiscent Group:  3rd Monday at 10:30 am.
Rosemaling: Wednesdays at 10 am
Scrabble: Thursdays at 1 pm.
Snowshoeing:   Sign out a pair at the front desk.
Tennis League: Wednesday 9 am at Gregory Park. May through October
Toy Makers: Tuesdays at 8 am
Walk Group:  Walk daily at 10 am
Whist: Fridays at 10 am.
Wood Carving: Thursday at 8 am
Yoga, Beginners Lessons: Wednesdays at 4:30 pm
Yoga, Chair Lessons: Tuesdays @ 4:30 pm
Zumba Gold: Daily 9 am to 10 am