Activities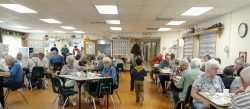 We reopened on Monday, May 18, 2020.  This is a soft opening.  Some of the activities will not
resume at this time, others will resume with a difference.  Donuts and 2nd Monday Dinners will continue as Pre-order and Drive-up Pick-ups at this time
2nd Monday Dinner:  Meal at 5 pm monthly. Cost is $8  OPEN TO THE PUBLIC.

Pre-order, Pick-up Meals.
4th Friday Lunch 'n Learn:  Noon lunch with presentation. Cost is $5  OPEN TO THE PUBLIC.
Acrylic/Oil Painting Lessons are on Tuesdays from 1-4 pm.
Advice from Ann: Mondays 9 am to 11 am
American Mahjong: Lessons/Mon. 9:30 am; Tue. at 2 pm.Wed. 9:30 am  Thur. 9:30 & Fri. at 12:30 pm;
BANDSTAND CONCERT, GREGORY PARK –

SUSPENDED BY BRAINERD PARKS AND RECREATION BOARD.

 RETURNING JULY 16th (subject to change) These concerts are made possible by funding from the Brainerd Community Foundation and the voters of Minnesota through a grant from the Five Wings Arts Council, thanks to a legislative appropriation from the Arts and Cultural Heritage Fund.
Bingo: Wednesdays at 12:30 pm – Free Popcorn!
Bluegrass Jam Session:  1st & 3rd Tuesdays from 6:30 to 8:30 (May – October)

(CANCELLED IN JULY)
Bone Builders: Mondays, Wednesdays, Fridays 11 am – 11:30 am
Book Club:  Meets the 3rd Wednesday monthly at 10:30 am
Card Recyclers: Mondays & Fridays at 8 am – noon
Center Choir:  Wednesdays at 3 pm

(Practice will resume in September)
Chair Yoga: Tuesdays at 4:00 pm (

CANCELLED FOR JUNE & JULY)
Creative Coloring: Fridays 10 am to noon
Cribbage: Mondays at 1:00 pm
Dominoes: Tuesdays at 12:30 pm
Donut Day: Thursdays Pre-Order only call 829-9345 by 4 pm on Wednesday.  Drive-up Pick-up. No donuts on July 2nd
Duplicate Bridge: Tuesdays at 6 pm
Exercise Rooms: Daily 7 am to 4 pm
Free Blood Pressure Check: Fourth Thursday at 10:30 am.
Gift Shop: Daily 10 am to 4 pm  

NOW OPEN!! 

Limiting # in Gift Shop at a time.
Golf League: Mondays at 9 am at Cragun's Gold Course. June-August  Call Cragun's week prior at 218-825-2789
Great Decisions:  3rd Mondays at 4 pm in the Great Room (April – November)
Jam Session: Band, Dancing, Listening every Thursday beginning at 11:30 am – 1:30 pm (CANCELLED FOR JUNE)
Karaoke: Singing and Dancing – Fourth Tuesday at 6:30 pm. (CANCELLED FOR  JUNE)
Knitting: Wednesdays at 10 am.

(Meeting in Gregory Park)
Let's Go Fishing:  Trips scheduled twice a month; June, July and August. (CANCELLED FOR 2020)
Line Dancing:  STARTING JULY 7.  Tuesdays 10 am to 11 am.  Come in and sign up.
Model Railroad:  Tuesday at noon on Second floor.
Morning Club: Wednesdays at 9:30 am
Movie Matinees: Fridays at 1 pm. Free popcorn is provided!
Open Craft: Tuesdays all day
Party Bridge: Mondays at 12:30 pm
Pegs and Jokers: Fridays at 9:30 am in Lobby. May through October
Pickleball League: Tuesday 9 am at Gregory Park. May through October
Ping Pong:  Stop in and hit a few across the net.
Pool Table:  Stop in and play by yourself or with a friend!  Tuesdays at 1 pm is a popular day for pool!
Prayer Quilters: Mondays and Thursdays 8 am to 3:30 pm, or for whatever hours you have available.
Progressive 500 Cards: Tuesdays & Fridays at 1 pm
Reminiscent Group:  3rd Monday at 10:30 am.
Scandinavian/Rosemaling Painting class: Wednesdays at 9 am
Scrabble: Thursdays at 1 pm.
Snowshoeing:   Sign out a pair at the front desk.
Tennis League: Wednesday 9 am at Gregory Park. May through October
Toy Makers: Tuesdays at 8 am
Walk Group:  Walk daily at 10 am
Watercolor Lessons:  12-3 pm, Phyllis Frankum-Instructor
Whist: Fridays 10-12 noon in the Card Room (Will Resume August 7th)
Wood Carving: Thursday at 8 am
Zumba Gold: Tuesday and Fridays  9 am to 10 am
The Let's Go Fishing pontoon is reserved for The Center's members two times a month in June, July and August.
LET'S GO FISHING CANCELLED FOR 2020.