Activities
AUGUST 24th – BBQ RIB/CHICKEN DINNER TICKETS AVAILABLE @ FRONT DESK $12.
CHECK US OUT AT THE CWC FAIR – JULY 31st-AUGUST 4th 10AM-10PM.  BUY YOUR RAFFLE BASKET TICKETS  & DINNER TICKETS AT  THE FAIR.      REGISTER FOR FREE DONUTS!!!         
2nd MONDAY DINNERS & 4th FRIDAY LUNCH 'n LEARN ARE OPEN TO THE PUBLIC.
BANDSTAND CONCERT, GREGORY PARK – 7 pm – THURSDAY, July 26th – The Cuyuna Range Community Band will be our entertainment.   Jack Franzen & Muddy Waters Band on August 2nd, Michael Hoover on August 9th, Day Break Band on August 16th, Blue Moon Band on August 23rd and Todd Lyscio and Tom Innis on August 30th.   Concerts at Gregory Park Bandstand are made possible by funding from sponsors.  This activity is made possible by funding from the Brainerd Community Foundation and the voters of Minnesota through a grant from the Five Wings Arts Council, thanks to a legislative appropriation from the Arts and Cultural Heritage Fund.
2nd Monday Dinner:  Meal at 5 pm monthly.
4th Friday Lunch 'n Learn:  Noon lunch with presentation.
Gift Shop: Daily 10 am to 4 pm
Donut Day: Thursdays 7 am to 10 am or until Sold-Out.
Exercise Rooms: Daily 8 am to 4 pm
Prayer Quilters: Mondays and Thursdays 8 am to 4 pm, for as long as you can stay.
Advice from Ann: Mondays 9 am to 11 am
Exercise: Daily 9 am to 10 am               NEW!!  Chair Yoga: Tuesdays at 1 pm
Free Blood Pressure Check: Thursdays at 10:30 am. (DAY AND TIME CHANGE)
Bone Builders: Mondays, Wednesdays, Fridays 11 am – 11:30 am
Book Club:  Meets the 3rd Wednesday monthly at 10:30 am
Reminiscent Group:  3rd Monday at 10:30 am.
Morning Club: Wednesdays at 9:30 am
Progressive 500 Cards: Tuesdays & Fridays at 1 pm       Pinochle:   Tuesdays at 1 pm
Bridge: Mondays at 12:30 pm & Tuesdays at 6 pm
Cribbage: Mondays at 1:15 pm and  Tuesday Evening after 5 pm
Dominoes: Tuesdays at 12:30 pm & 5 pm.
Scrabble: Thursdays at 1 pm.
Pegs and Jokers: Fridays at 9:30 am in Lobby.
Whist: Fridays at 10 am.  July & August is Wednesdays @ 1 pm
Creative Coloring: Fridays 10 am to noon
Bingo: Wednesdays at 12:30 pm
Hand & Foot: Wednesdays at 9 am to noon
Jam Session: Band, Dancing, Listening every Thursday beginning at 11:30 am
Bluegrass Jam Session:  1st, 3rd and 5th Tuesdays from 6:30 to 8:30
Wood Carving: Thursday at 9 am
Toy Makers: Tuesdays at 8 am
Rosemaling: Wednesdays at 9:30 am
American Mahjong: Lessons/Mon. 9:30 am; Wed. 9:30 am & Fri. at 12:30 pm; Tue. at 2 pm.
Folk Painting: Tuesdays at 1 pm.
Center Choir:  Wednesdays at 3 pm.  If you are interested in joining the choir, contact Diane Guidi @218-454-0268.
Acrylic/Oil Painting: Tuesdays at 1 pm
Card Recyclers: Mondays & Fridays at 8 am
Open Craft: Tuesdays 8 am to 1 pm
Doll Makers: Tuesdays 10 am to 1 pm
Knitting: Wednesdays at 10 am.
Crocheting:  Thursday at 10:30 am.
Great Decisions:  3rd Mondays at 4 pm in the Great Room
The Center Energized: Wellness Program:  1st & 3rd Wed. monthly.
Walk Group:  Walk daily at 10 am         Zumbo Gold:  Monday-Friday at 9 am
Watercolor Painting: Thursday at 12:30 pm.  No CLASSES in July.
Model Railroad:  Tuesday at noon on Second floor.
Movie Matinees: Fridays at 1 pm. Free popcorn is provided!
Pickleball League: Tues. 9 am @ Gregory Park.     Tennis League: Wed. 9 am @ Gregory Park.
NEW – Line Dancing:  Starting July 10 at 10 am to 11:30 am
Golf League: Mondays at 9 am at Cragun's Gold Course.  Call Cragun's week prior at 218-825-2789
Snowshoeing:  Done for the year.  Sign out a pair next winter.
Let's Go Fishing:  July 24th 1 pm – 3 pm, out of Jones Bay Public Access on Pelican Lake. SIGN UP AT FRONT DESK!!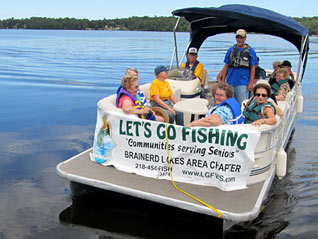 Pool Table:  Stop in and play!!   Leagues have started. Come join the fun!!
Ping Pong:  Stop in and hit a few across the net.
New Possibilities:    Chess:  Contact Cleon Sundby @ 612-384-2670.