Entertainment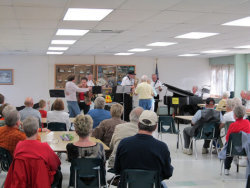 Bluegrass Jammin' will happen the 1st, 3rd and 5th Tuesday of each month from 6:30 pm to 8:30 pm in the Great Room.  We will be Jammin' from April through October. Plan to join Butch in the band, come to enjoy the music or do some foot stompin' to the banjo/fiddle music.
Tuesday Extended Evening Hours has us open until 9 pm.  You could be playing Bridge,  Mahjong, or shooting a game of Pool with friends.  The Bluegrass Band Jam Sessions happen every other Tuesday.  You pre-sign up for Bridge.  Stop in and get involved.
The Center Choir performs at various venues.  Practice sessions are on Wednesdays at 3 pm. If you would like to be part of the choir, please contact Diane Guidi at 218-454-0268.
Wednesday Bingo at 12:30 pm – in the Great Room. We play on hard cards, payouts are cash, we play sixteen games and the cost is 5 cents per card per game.  Bingo begins at 12:30 pm and is usually done by 3 pm.  Popcorn is free.  Donuts and Coffee are available for purchase.  You can enjoy an afternoon of Bingo for less than $1.  Stop in and participate, it's almost an Event!!
Thursday Band is playing weekly in the Great Room at The Center. The music begins around noon, anyone who plays an instrument can be part of "the band".   If you love to dance to country music you can  step out onto the dance floor.   If you just want to listen to wonderful music,  you can do that also.  On the Second Thursdays , this group celebrates the birthdays of the month with cake and ice cream. Come in and join us! You will find welcoming people, talented musicians playing great music and an enjoyable afternoon of toe tappin' music.
Movies:  Catch a movie at 1 pm on Each Friday. You can watch a movie and enjoy some free popcorn.  There is more detailed information on the movies in the current Newsletter.
Wednesday Morning Club Program  –  The program is at 9:30 am and membership is required.  The presenter on October 10 – Dale Parks, President of The Center Board; October 17 – Harley Ellis, Prayer Quilter Volunteer; October 24 – Jim Studer "The Mystery of Tony the Goat Road Taken"; October 31 – Amy Sells, Kidneys.
Silent Auction selection is really fun.  You don't need to be a member to get in on this ongoing event.   There's something different every month for you to bid on. Come see all these interesting items that are donated by our members.
Pool Table has been donated by Hazelwood Corporation, Aitkin.  It is a gently used 8′ Commercial Dynamo pool table.  Center members have been 'rackin up' the balls.  Stop in, shoot a game of pool.  Questions call The Center.
Ping Pong can be played at The Center in the Game Room.  We have a sign up sheet, if you need someone to hold up the other end of the table.
Great Decisions Discussion Group meets once a month from April through November.  GDDG meets the 3rd Monday at 4 pm in the Great Room of The Center. That group can be educational entertainment as they discuss current events based on an eight-topic book published by the non-partisan Foreign Policy Association.  For  information contact Jon Strand, 218-454-1025 or email jonstrand@brainerd.net.
Let's Go Fishing Trips  We schedule two trips a month in June, July and August. Check with us next summber for days and times.
GREGORY PARK – NORTH SIDE OF BRAINERD – SUMMER OUTDOOR CONCERTS ON THURSDAYS @ 7 PM from June through August.