Dining Out
All Dining activities are cancelled until further notice due to COVID-19 regulations.                3-18-2020
______________________________________________________________________________
YOU PAY FOR ACTIVITIES AND DINNERS AT THE TIME YOU SIGN UP. YOU MAY PURCHASE YOUR TICKETS AT THE FRONT DESK AT THE CENTER. YOU WILL RECEIVE A TICKET AT THAT TIME.  SAVE THE TICKET & TURN IT IN AT THE EVENT.  IF YOU ARE UNABLE TO ATTEND THAT ACTIVITY OR DINNER, YOU MAY GIVE OR SELL YOUR TICKET TO SOMEONE ELSE.  IF YOU HAVE ANY QUESTIONS, CALL DAWN, KAREN OR DEANN AT 218-829-9345.
YOU CAN DINE OUT THURSDAY MORNING OR AFTERNOON WITH COFFEE & DONUTS!!
OUR DINNERS AND LUNCH 'N LEARN ARE OPEN TO THE PUBLIC!!!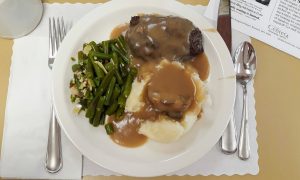 SECOND MONDAY DINNER – 5 PM.  This Fellowship Dinner and Program is held the second Monday of the month at 5 pm in the Great Room of The Center.  Dave Freiday and Bill Freid will be making dishes that are sure to please your palate. Youth groups sign up to serve the dinner and individuals in attendance make a small donation to the youth group; it is a great inter-generational event! Following the dinner, there is a program, entertainment or an educational event! Don't miss out, it is always fun! Sign up early and invite a friend. Tickets are $8 per person and must be picked up by noon on the Friday before the dinner.
LUNCH & LEARN at noon on the fourth Friday of the month. Each month's presenter will be the posted in our newsletter.
The LSS Friendship Dining Room is pick-up only until the COVID-19 regulations have been lifted. For information regarding the Meals on Wheels program call (218) 824-6026.
They serves a noon meal Monday through Friday in the lower level of The Center. Meals are served from 11:15 am – 12:15 pm. Stop in for a great lunch and fellowship. Costs are $4 (suggested) for persons over age 60 and suggested $7.25 for those under age 60. The Meals on Wheels program is also through the LSS Dining Site. For information on volunteering at the LSS Dining Site or for the Meals on Wheels program call (218) 824-6026.
The LSS Noon Meal could be happening in the middle of your activities at The Center.  It makes a day of action and activities easy to plan around.