We will have a Curbside pick-up for 2nd Monday Dinner until further notice.
______________________________________________________________________________
OUR DINNERS AND LUNCH 'N LEARN ARE OPEN TO THE PUBLIC!!!  Lunch 'n Learn  will be held in the Great Room.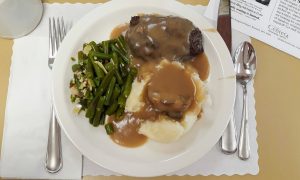 SECOND MONDAY DINNER – 5 PM.  Pre-order, Pre-Pay Drive-up, Pick-up Dinner on the alley side of The Center.  This 
LUNCH & LEARN at noon on the fourth Friday of the month. Each month's presenter will be the posted in our newsletter.
They serve a noon meal Monday through Friday in the lower level of The Center. Meals are served from 11:15 am – 12:15 pm. Stop in for a great lunch and fellowship. Costs are $4 (suggested) for persons over age 60 and suggested $7.25 for those under age 60. The Meals on Wheels program is also through the LSS Dining Site. For information on volunteering at the LSS Dining Site or for the Meals on Wheels program call (218) 824-6026.
The LSS Noon Meal could be happening in the middle of your activities at The Center.  It makes a day of action and activities easy to plan around.