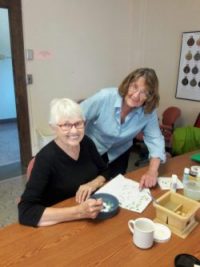 Art Classes:   Acrylic & Oil Painting, Watercolor and Rosemaling/Norwegian Folk Painting.  Call The Center at 218-829-9345 for information or for the instructor's information. You will find that you are artistic, you just needed a great instructor! (Watercolor is canceled till further notice)
Chess:  You could be learning to play Chess at The Center.  If you play Chess or wish to learn to play Chess, please contact David Tweed at 218-232-2097.  He would like to start a Chess group.
Cribbage:  A group plays Monday from 1:00 -2:30 pm.  If you want to learn, come early and they will teach you.  Bring $2 for the kitty that will be shared between the two highest scorers.
Lakes Area Great Decisions:  The Lakes Area Great Decisions Group meets the third Monday from May through December. The eight topics area: Global supply chains, Persian Golf security, Brexit and the EU, The Arctic, China, in Africa, The two Koreas, Role of the WHO, and End of Globalization. Contact The Center at 218-829-9345 for  information or check in the monthly newsletter.  You may also contact Jon Strand @218-454-1025 or email jonstrand@brainerd.net for more information.