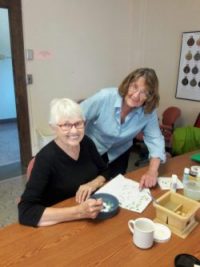 Art Classes:   Acrylic & Oil Painting, and Rosemaling/Norwegian Folk Painting.  Call The Center at 218-829-9345 for information or for the instructor's information. You will find that you are artistic, you just needed a great instructor!
Chess:  You could be learning to play Chess at The Center.  If you play Chess or wish to learn to play Chess, please contact David Tweed at 218-232-2097.  He would like to start a Chess group.
Cribbage:  A group plays Monday from 1:00 -2:30 pm.  If you want to learn, come early and they will teach you.  Bring $2 for the kitty that will be shared between the two highest scorers.
Lakes Area Great Decisions:  The Lakes Area Great Decisions Group meets the third Monday from March through November. The nine topics are: Climate Change, Changing Demographics, Outer Space, Russia and the U. S., Myanmar and ASEAN, Quad Alliance, Drug Policy in Latin America, Industrial Policy and Biden's Agenda. Contact The Center at 218-829-9345 for  information or check in the monthly newsletter.  You may also contact Jon Strand @218-454-1025 or email jonstrand@brainerd.net for more information.