Classes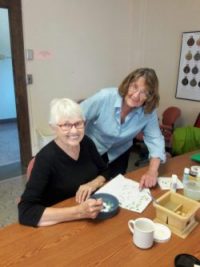 Art Classes:   Acrylic & Oil Painting, Watercolor and Rosemaling/Norwegian Folk Painting.  Call The Center at 218-829-9345 for information or for the instructor's information. You will find that you are artistic, you just needed a great instructor!
AARP Smart Driving Classes:  You can sign up to take AARP Smart Driving Classes at The Center.  We offer the beginning 8-hour class and the 4-hour refresher class. Call for dates and times.  You MUST complete an Introductory Class before taking a Refresher Class.  The cost is $15 for AARP Members and $20 for Non-AARP Members.  Cost will increase by $5 in October.  Call The Center at 218-829-9345 to sign up. (AARP CANCELLED ALL IN PERSON CLASSES) YOU CAN TAKE THE CLASS ONLINE AT www.aarpdriversafety.org
Chess:  You could be learning to play Chess at The Center.  If you play Chess or wish to learn to play Chess, please contact David Tweed at 218-232-2097.  He would like to start a Chess group.
Cribbage:  A group plays Monday from 1:00 -2:30 pm.  If you want to learn, come early and they will teach you.  Bring $2 for the kitty that will be shared between the two highest scorers.
Lakes Area Great Decisions:  The Lakes Area Great Decisions Group meets the third Monday from April through November at 4 pm.  2020 topics are: Climate change, India and Pakistan, Red Sea Region, Human Trafficking, Northern Triangle, China in Latin America, The Philippines, and Artificial Intelligence and Data. Contact The Center at 218-829-9345 for  information or check in the monthly newsletter.  You may also contact Jon Strand @218-454-1025 or email jonstrand@brainerd.net for more information.