Exercise
We offer you several types of exercise here at The Center.
Bone Builders Chair exercise is a safe, low impact exercise program. It relies on weight training to protect against fractures caused by osteoporosis by increasing muscular strength and bone density. Classes are held Monday, Wednesday and Fridays at 11 am and are done at 11:30 am.  Each person completes the exercises at their capabilities.
Exercise Rooms access is included in your membership.  You could begin your exercise routine as early as 8 am  Monday thru Friday.   The exercise rooms are located on fourth floor of The Center.  The equipment you have use of includes: treadmills, recumbent bike, row machine, elliptical, exercise bike, exercise balls, bosu ball, weight bench, stretch machines and a Hoist workout machine. You only need your membership and a little motivation!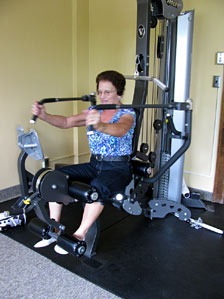 Zumba Gold
Are you ready to party yourself into shape? That's exactly what Zumba Gold is! Join us on Tuesday, Thursday and Friday mornings at 9 am for this fun exercise program. You will be learning Latin dance steps to jazzy music! You'll have so much fun you won't even know you're exercising!  This is an awesome program, just ask those who participate.
The Center Energized:  We walk Monday through Friday, starting at 10 am.  We meet in the front lobby and walk around the neighborhood,  to Gregory Park and around the north side. When it is really cold, we walk to the Franklin Art Center, which is only three blocks from The Center. We go inside,  take off our coats, and walk the hallways!   Of course, then we have to get our coats back on and walk back to The Center.  It is always a fun time!
Matter of Balance Class is sponsored by Crow Wing Energized, Essentia Health and Central MN Council on Aging.  This 2 hour class will be held from 2 pm to 4 pm on Wednesdays from October 11 through November 29th.
Snowshoes are available for checking out.  We have 20 pairs of snowshoes with poles that can be utilized now that we have the recent snowstorm.  Go snowshoeing at an area park or on your own property.  It is fun and at the same time, it's a very good workout.
2017 Tennis and Pickleball Leagues are done for the year!! Plan to get involved next year.
Golf through The Center is done for the year.  Make sure you sign up next year.
Let's Go Fishing:
The Center's 'Let's Go Fishing' trips are done for the year.  Hope to see you next year.